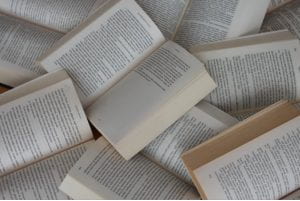 Image from Unsplash
I have about 300 books in my house, way too many books for me to read. Most of them aren't even mine, you see my mom's a doctor so most of the books in our house are about medical stuff. To me that seems sort of boring. Though 300  may seem like a lot of books, it's not! I mean I have books, I just don't read them. None of them are really good. They're just about girls who meet each other and then become sisters. That's cool I guess.
But there was this one time when I read this really good book by Erin Hunter. It's called Warrior Cats. You may have heard about it. It's pretty good. There's about thirty books in the series. If you like fantasy, then this book is for you. Although it does have a lot of suspense, the plot and story line are both fantastic! You do need a quiet space to read this book. It also requires advanced reading skills but you should stick with it. 
You know how sometimes you want to do something, like you really want to do something, but you don't know what. That's why I'm thankful  books are a thing. The only annoying thing is finding a book, especially for me. I will take hours just to find a book. When I find a book I usually don't like it, so that's fun. I guess it's good to have a bunch of books, even though I usually read online. I'm glad that I have all the reading supplies that I need. It makes it so much easier to read.